Joyful Thursday Beauties & Fashionistas!
Summer is in full effect. It's time to bring out our summer maxi dresses, sandals, bathing suits and handbags. Speaking of handbags, how often do you like to change up your accessories? Are you the fashionista that switches handbags for the situation or more for the season?
Me, personally, I do a little of both. Yes, this may sound somewhat ridiculous, but for some insane reason I find that it works really well with me. Not to mention, all my handbags get their turn to be out and about without always being stuck in the closet.
(I told you this would sound ridiculous, right?)
With that exact thought in mind, today we are sharing a NEW giveaway event for all of our readers. It is the perfect time for this event - by entering you will have a chance of winning a
Coach Handbag and Wallet set
!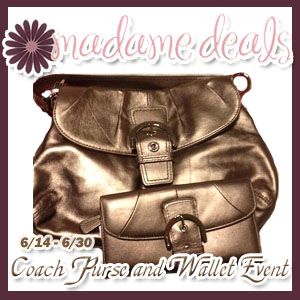 This giveaway will run from 6/14 12:01 am EST thru 6/30 11:59 pm EST
If you've entered any of our other Madame Deals Events, this will be easy for you.
There is 1 mandatory entry of a blog comment plus Facebook likes for bonus entries.
Wait for the Rafflecopter to load and enter below: