This is a Sponsored post written by me on behalf of No nonsense for SocialSpark. All opinions are 100% mine.
When it comes to style one of the most important features to any outfit should be: comfort. Wearing an outfit that is both comfortable to wear and stylish allows you to become more confident.
Of all the latest fashion trends, the two pieces that are considered to be "must haves" in my personal wardrobe are leggings and tights. Having several pairs of leggings is recommended. Why?
Leggings are comfortable, easy to style, easy to wear and can be very flattering to your silhouette. The same applies to wearing tights. Wearing a pair of tights immediately adds a pop of color to any outfit. Which brings me to the fun part of this post.
Last week I received a pair of No nonsense Leggins and Tights. I was encourage to take them both for a drive and so I did. Before going into the specifics of these two fashion pieces, I would like to share my two outfits that I put together: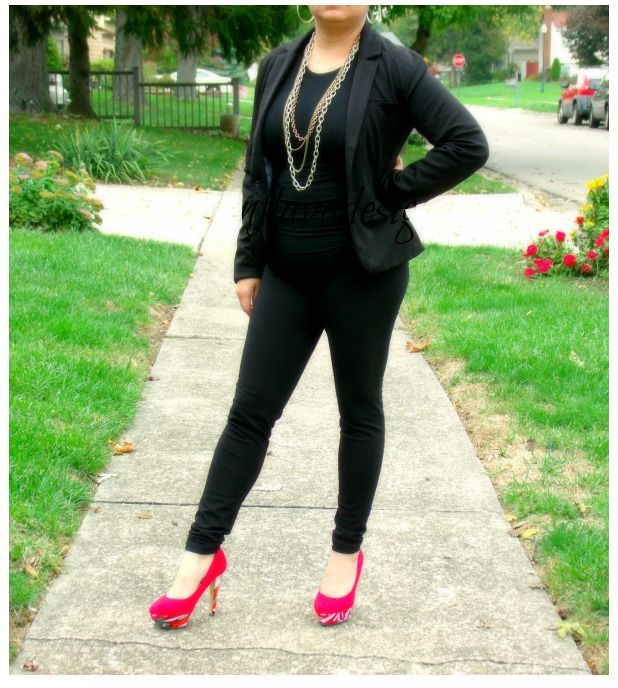 (To see more outfit photos, please check out my #StyleMadeEasy pinterest board)
Starting with the No nonsense Leggings, let me just say that these are extremely comfortable. Once you have them on, it is very easy to forget that your wearing leggings. The No nonsense Leggings are 57% cotton, 38% polyester and 5% spandex. The pair I received were black in size small (which is comparable to pant size 4-6). I want to point out, I am normally petite (a size zero) and I am only 4'9 in height which makes it almost impossible to find leggings that I can wear without the need of tailoring.
The reason I say this is because although the Leggings are size Small they did fit however I did have a little "wiggle" room in the legs; but this was not overly noticeable. The Leggings are also available in M (8-10) L (12-14) XL (16-18) and XXL (20-22). Not only has No nonsense made sure to have a variety of sizes but the leggings also come in a variety of styles, colors and fabrics.
The No nonsense Tights are amazingly easy to put on. They literally glide over the legs and have no bunching at the bottom around the ankles. The pair I received were Deep Burgundy in size Small (4'11-5'6 100-150lbs). These Tights are control top and super opaque; which is perfect for the Fall season being that they are not transparent and the material is on the thicker end. The Panty portion of tights are 78% Nylon and 22% spandex; the Leg is 89% Nylon and only 11% spandex. No nonsense Tights are available in sizes Medium, Large, X-Large and XX-Large.
I have to say that I am extremely excited to have these two items from No nonsense as additions to my Fall wardrobe. Having the Leggings and Tights will certainly make styling outfits much easier. Not to mention that I look forward to purchasing a few more items from the No nonsense collection since they are easily found at most drug stores and retailers here in Columbus, Ohio.
If you enjoyed the outfits I was able to put together, then you will be excited to find out that Jill Martin has become the Be Brand Ambassador and Style Expert for Launch of New Tights & Leggings! Don't know who Jill Martin is? Jill Martin is a fashion expert, an Emmy Award-winning TV personality and co-author of the New York Times bestselling style guide "I Have Nothing to Wear!"
I am very excited to see more of Jill's upcoming series of online vignettes (like the one in the video) and what these will look like, not to mention read her fashion tips and styling advice that she will be sharing on Twitter and Facebook. There is certainly a lot to look forward to from No nonsense and their new Be Brand Ambassador / Style Expert, Jill Martin.
Now it's your turn:
To see where you can find No nonsense Leggings & Tights in your neighborhood enter your zipcode here: No nonsense tights and leggings
Make sure to stay in the "know" jusy by liking No nonsense on Facebook and following No nonsense on Twitter This way you can stay one step ahead on all the new fashion and style tips!