"Give a girl the right shoes and she can conquer the world"
... These are mighty strong words coming from one of the most iconic beauties of all times..Marilyn Monroe. In my humble opinion I honestly believe Marilyn was on to something when she said these words.
Wearing a pair of shoes that you absolutely love really can give you that boost of self confidence that sometimes is needed. I for one, love shoes! I can never have enough pairs of shoes to wear. I like having a wide variety to choose from. And it is because of that I tend do shoe shop at least once every few weeks.
The past few days have been rather depressing, so in hopes of motivating myself I decided to take a few minutes for myself and shoe shop. Where did I go? Instead of leaving the house (it's too cold outside!) I went online to one of my favorite online shoe boutiques,
Shoe Dazzle
.
Shoe Dazzle
has a great selection in shoes; there is absolutely a style that fits everyone. For example, I love all shoes - my only guideline when looking for a new pair of shoes is that it
has to have
a heel. The higher the heel, the better!
Standing at only 4ft 9in you can understand why stilettos, wedges and platform shoes are the style I gravitate to most.
While searching through the online shoe section, I came across a simply styled bootie that I had heard about a few weeks ago but never got the chance to take a closer look at it. Which shoe am I referring to?
Allow me to introduce you to:
Nethia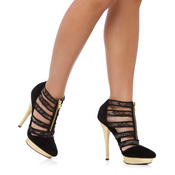 Nethia
is the creation of one of the most talked about Real Housewives of the Bravo network, Nene Leakes. A few weeks ago, Shoe Dazzle posted the news via Facebook however I was not able to look into it until today, when listening to a commercial announcing the series premier of the Real Housewives of Atlanta airing Sunday, I immediately remembered!
The Nethia is a chic bootie with gold metallic platform and heel and with lace cutouts going across the front. This bootie is only available in black, the height of the heel is 5.25", the front platform is 1.25" in height and the bootie is faux-suede with an exposed zipper.
My favorite aspect of Nethia is not only the height of the heel, but the simple style of the bootie itself. I can certainly see the appeal of wanting (or should I say, needing) a pair - these can easily be paired with skinny jeans or leggings for daytime wear or with a A-Line dress and blazer for an evening out.
So, for the price of $39.95, these booties would certainly make up for their cost. Best of all, according to
Shoe Dazzle,
"
100% of the profits (from this shoe) will benefit Saving Our Daughters, an organization that provides teen girls with the tools to combat all forms of abuse against women".
Now that is definitely a good reason why I need to get my hands on a pair of Nethia and soon!
Now it's your turn: What do think about Nethia - would you wear her? What are your favorite style of shoes? Please share your ideas with us - we love hearing from you!